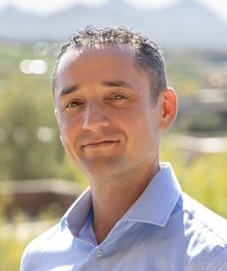 Cell:
602-558-5200
E-mail:
jbarchi@fineprop.com
21020 N. Pima Rd., Suite 100
Scottsdale, AZ 85255
Jeff Barchi is practically a valley native, having lived in Arizona since the age of two. He and his wife Katie have been married since 2005, and are the proud parents of two wonderful boys, Enzo and Nico. They live in Scottsdale, and have two Labradors, Ozzie and Sadie. Jeff is a very proud alumnus of Brophy College Preparatory, and attended Arizona State University.
He has always enjoyed math, having completed multiple semesters of calculus, and had intentions of being either an engineer or CPA, however his career took a different path. Venturing into real estate, he learned that it combines a friendly, out-of-office environment, with the analysis and statistical breakdown that he enjoys.
Since becoming a REALTOR® in Scottsdale in 1999, he has earned a reputation for professionalism both with his clients and peers. He consistently ranks in the Top 100 RE/MAX Agents in the World (out of approximately 140,000 RE/MAX agents worldwide), and has received numerous awards and rankings from RE/MAX, Phoenix Business Journal, SEVRAR, Young Professionals Network, and more.
Jeff enjoys running, hiking, and biking, as well as traveling with his family. Whether it be their annual trip to Barcelona, a drive to the US National Parks, or an extended weekend in Disneyland.