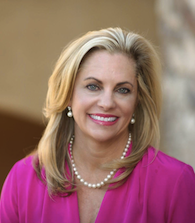 Cell:
480-586-7766
E-mail:
Ann@davisdriver.com
21020 N. Pima Rd., Suite 100
Scottsdale, AZ 85255
Ann Oliver Driver, born in 1960, is a native of Lake Bluff, IL. She graduated in 1982 from Texas Christian University in Ft. Worth with a Bachelor's of Science degree in Marketing while playing on a full tennis scholarship for the Horned Frogs. She was a member of the Kappa Gamma sorority.
After graduation, she returned home and took a sales job in downtown Chicago with IBM in their General Systems Division. She enjoyed the well regarded, formal sales training she received from IBM and has put those skills to work extensively over the years. She married Davis Driver in late December 1982. They moved to Dallas in June, 1983 where IBM gave her an opportunity to work in a retail Product Center store. She excelled in this competitive environment for four years, during which she won a number of sales awards.
She retired from IBM in 1986 to start a family, which has come to include a married thirty-seven year-old son with three children (hooray for Grandchildren!) and two thirty-one year-old boy/girl twins, one of which is married without children, and the of which is engaged, both enjoying successful careers. In 2012, she began selling for Rodan & Fields and started an interior design business. In a very natural extension of her career, she became a licensed real estate Salesperson in Arizona in December 2014, to capitalize on the real estate acumen she has acquired during the first thirty-four years of her marriage to a licensed real estate Broker, the experience gained from remodeling two homes (both of which she served as the General Contractor), building one from scratch (where she was merely a very interested and involved daily observer!), and her interior design skills. She has a buoyant, "can do" attitude about life and a lot of common sense, both of which are sure to serve her well in her real estate career.
She enjoys hiking, cooking, working out, entertaining, church activities (including doing out-of-the-country mission work), and dabbles in golf and fly fishing.